Fall in love with the skin you are in by indulging in our facials and specialized skin treatments designed to make you look brighter and younger. Read on for more: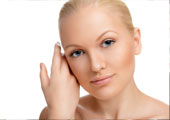 Skin treatments
We provide our customers an excellent anti-ageing skin treatment from Skeyndor to protect the skin against everyday and pre-mature ageing.
Our Dermal Zone treatments for sensitive skin are perfect for the ones whose skin needs special care and attention. The Dermal Zone tan-removal skin treatment deals with dark spots removal and correction of uneven complexion caused due to excessive sun exposure. The Dermal Zone anti-ageing treatment can help with fine lines and skin sagging.
These treatments will not only add youth but also impart a healthy glow to your skin.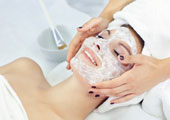 Facials:
Our indulgent facials are designed to make your skin look its very best. A lot of care skin care aspects such as cleansing, skin lightening, hydration, regeneration and so on are covered by our facials.
A facial massage will also make your skin feel de-stressed and de-toxified.
*We use products from Skeyndor, O3+, Shahnaz Husain, Lotus and Biotique.