Dipanjali has been a name synonymous with professional beauty parlors since the 70's. It came into vogue at a time when the grooming and parlor industry in Kolkata was still at a nascent stage. It would not be an exaggeration to say that we were among the first ones who took this under-developed line of work to a professional level in Kolkata and brought it within the realm of common people. A discussion on Dipanjali can never be complete without walking down the memory lanes that maps its journey from a small scale salon to a chain of parlors.
Lakshmikanta Das, the founding owner of Dipanjali, was born into a family of barbers. He moved out of his tiny village and set his eyes upon the city of Kolkata. It was in this city that he gave a modern-day professional dimension to his ancestral vocation by setting up the very first Dipanjali salon for men opposite Scottish Church School near Hedua in the early 70's. This salon that was set up on a bank loan created quite a stir in its time and was also mentioned in the local newspapers for being one of the very first small scale industries of its kind to be funded by a bank. Once the first salon was set, there was no looking back for Dipanjali. Nomita Das, the wife of Lakshmikanta Das set up the lady section of the salon. A beauty parlor that was still a very novel concept for the women of those times was introduced into the common walks of society by Dipanjali. Later around 2001 this outlet was turned into an all ladies beauty parlor. It has been the chosen beauty and grooming hub for ladies ever since then.
The second establishment of Dipanjali was set up in Sinthimore in 1986. This unisex outlet was the first salon of its stature and it stirred up the hair cutting and grooming scene for men and women alike. Professional and plush hair cutting and grooming were finally brought to the refined sections of the society. The popularity of Dipanjali just went uphill post the opening of its second branch.
From the year 2006 onwards, Lakshmikanta Das' son Chiranjib Das took over the management of Dipanjali and has been at the helm of all affairs till date. His passionate involvement and guidance has been the driving force of Dipanjali. He revamped the techniques and equipments, upgraded the skills of the workers and brought Dipanjali into the arena of cutting-edge modern beauty parlors.
The year 2008 saw the opening of the third branch of Dipanjali at Hathibagan crossing opposite Star Theatre. This was an all ladies beauty parlor designed to tap into the beauty requirements of women. Beauty and grooming were at its very best. Many and many ladies began to swear by Dipanjali as their perfect stop for professional beauty care.
The fascinating heritage of Dipanjali shines through whenever we hear old ladies tell stories and little anecdotes about their visits to Dipanjali back in the old days. Our clientele has both young and old women who have been a part of Dipanjali. Many established beauty industrialists were once employed at Dipanjali and hearing them talk about it re-enforces the feeling that Dipanjali has a scintillating heritage of commercial beauty and grooming backing it up.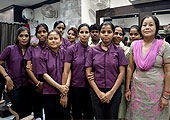 Dipanjali is a professional hair and beauty parlor where expertise meets care, beauty meets indulgence. With our sprawling range of hair, skin, grooming and bridal services our adept team works towards creating a one stop beauty pivot to meet the needs and requirements of contemporary women at affordable rates. Our foremost aim is to ensure that every customer who visits us leaves our beauty parlors with a satisfied smile and the desire to come back again!
On an average we have 5 hair cutting chairs, 2 facial stations and 4 mani-pedi provisions in our outlets. In the future we are planning to go for further expansion so that we can be within the reach of all women of Kolkata who are looking for a great experience out of their visits to the beauty parlors.